Posture Assessment in Leesburg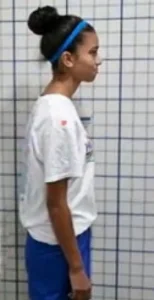 Our mission has always been to not only decrease neck and back pain, but to get to the root of the problem. So many times back pain, headaches, and numerous other conditions can trace their origin to poor posture. Studies continue to show a direct correlation between poor posture and poor health. In our effort to better one's posture in Leesburg, the first step must be to explain where the deficiencies are.
Get Your Posture Score in Leesburg Today!
We now have a new posture assessment tool that does just that. By taking a few pictures of you, we can show you how your posture is! Come and get a posture exam, and find out for yourself what your Posture Number™ is! Once you know where the problem is, we can work as a team to strengthen the weaker areas.
OFFICE HOURS
---
Monday
8:30am - 12:00pm
2:00pm - 6:00pm
---
Tuesday
2:00pm - 6:00pm
---
Wednesday
8:30am - 12:00pm
2:00pm - 6:00pm
---
Thursday
7:30am - 12:30pm
---
Friday
8:30am - 1:30pm
* The second and fourth Friday afternoons we are here 1:00pm - 4:00pm by appointment only.

---
1st and 3rd Saturday of the Month
8:00am - 12:30pm
---
Sunday
Closed